Home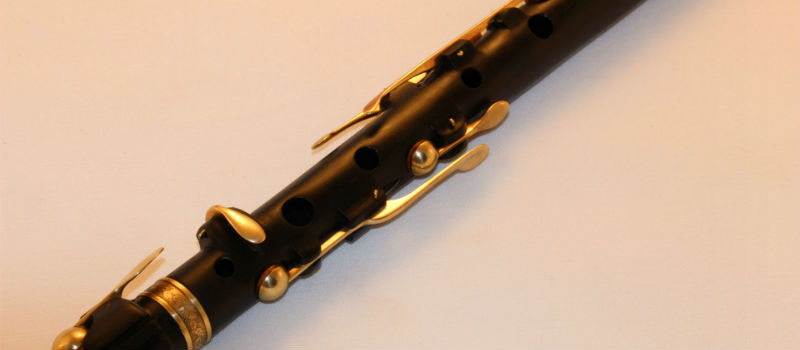 Welcome to my website! My name is Thierry Denni, wooden flute enthusiast and maker of fine wooden flutes. My workshop is in Alsace, close to the city of Strasbourg and the German border.

On this website you will find plenty of information and pictures about the flutes I make. It's now 12 years ago that I took my first steps in flute making and with time it has developed into an important part of my life. The process of taking a bare blank of wood, working it into something that plays a beautiful tone and giving it time develope (here in France we know that everything good takes time, like the wine and cheese) and grow into a unique musical instrument full of gentle character. These are reasons why my production will always be on a small-scale.

As a musician I have been playing irish, breton and other folk music styles for decades in bands and sessions.

I enjoy the time involved in crafting my instruments, which is why I do everything myself. From turning and carving, to filing the keys by hand, to making my own tools. Available are two types of builds that are based on old english flutes from the nineteenth century: Rudall & Rose and Pratten's Perfected.

Rather than copying the old flutes I try to carry their sought-after characteristics to a more modern approach to the craft. The flutes are worked with intricate detail and attention to the individual needs. A long time is spent finding the tone, response and the potential of a flute aswell as for tuning and voicing. This for me personally is really the part I enjoy the moste and am most passionate about.
Flutes
My models are.

Pratten Boosey (D Flute)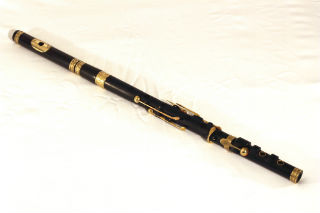 My main model in D. Well balanced and dynamic in response, sweet open tone, generous low notes and a broad sounding range; a versatile flute that can sound quite strong, but can also be more physical to play.

Rudall & Rose (D Flute)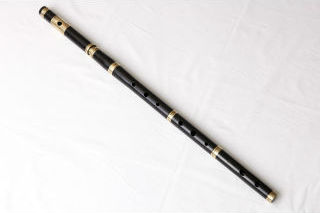 Elegant sound, rich harmonics, more direct response especially in the upper register, very evenly balanced volume of all the notes. Only made on special request.

Eb Flute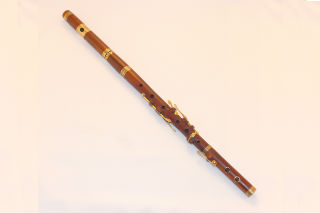 A semi-tone higher than the D flute.Strong,very responsive,tonic sound;also less physical in terms of air and finger hole spacing.Used more in breton and scottisch music.Bore and scale calculations are based on my D Pratten model.

C Flute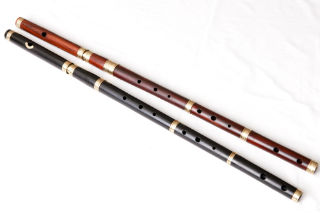 A lower tuned flute (by two semi tones).Round fruity tone, warm low notes, generally mellow with sweet overtones.

Bb Flute


The lowest tuned and therefore largest flute.Dark and penetraing sound.Can be difficult to play for players with short fingers due to the space between the holes.

F Flute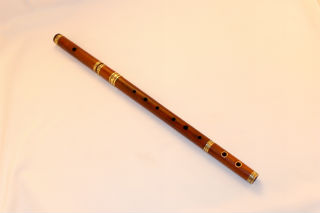 The highest pitched and shortest of all my models.Easier to play, bright sound and quite powerful, almost percussive in response.Bore and hole placements have been recalculated based on the D Pratten bore, to give a broader, more flexible and balanced tone than what we know from the old type of military flute band flutes.

B Flute

Another low flute in a nowadays unusual key, rarely proposed by flutemakers.For those who want to play with low pitched uilleann pipes.(Before the uilleann pipes where tuned in concert pitch D,they use to be tuned lower in B.)


Woods & Materials
African Blackwood, Grenadilla

This member of the rosewood family comes from Southern Africa. Being very hard and dense and containing a lot of oil it hails properties which are desirable for tonal qualities such as clarity, sustain and harmonics.The color develops from a chocolate brownish to black.The flutes made of this wood have a powerfully deep, refined and clear tone with a lot of harmonics. It's the most used wood for high-‐end flutes in celtic music.This is however beginning to change as availability and sustainability are coming into question and other woods with great qualities are being discovered. Personally I don't regard it as irreplacable.

Mopane

This beautiful reddish-coloured hard wood come from Soutern Africa.Boasting a lot of the same properties of grenadilla, the flutes made of mopane do have a slightly warmer, less penetraing sound and a nice dynamic playing range. Being an excellent alternative to blackwood both for acoustic and environmental consideration, it is becoming more and more popular for woodwind instruments nowadays.

Boxwood

Originating from Europe and the Mediterranean basin, its natural colour is a creamy yellow with or honey-‐like when acid stained. It is the lightest wood by considerable margin, making it physically easier to hold, making it anattractive choice for the lower, larger flutes. Boxwood has a delicatelysweet and mellow tone.

All my wood is selected with great care. By the time it reaches my workshop,it has already been drying for many years. I then inspect the woods and let them dry further until I consider them optimal for processing.

Aside from the woodworking, I also like to make all the metal parts myself.The rings and keys are shaped and filed by hand from brass rods and plates.The hardness of brass allows me to make the keys more slender and therefore lighter, an important consideration for fully-keyed flutes.Plus, despite being tougher and more demanding to craft than silver I like the aesthetics and patina of wide hand-engraved brass rings which, if made of silver would make the flutes excessively pricy. You can choose from a variety of patterns for engraving from a personal sketch book. Engraving is done with an airgraver by hand under a binocular microscope.

The rings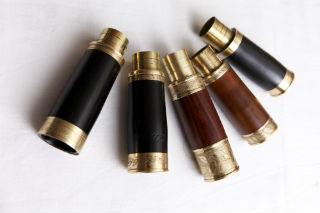 The rings are wide plate-type rings. The exact width can vary to your aesthethical liking.The rings are or not engraved with ornenmantal pattern.

The embochure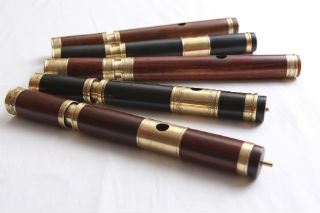 The embochure can also have a brass lip plate, which is a solution in case of blackwood allergy. The blowing edge in brass gives a more bright and incisive sound, which can help some players enact more control over their embochure.

The keys



The use of keys can be necessary depending on the type of musical repertoire played. Theoretically a fully-keyed flute is chromatical. However the use of certain keys needs some practice and these types of flutes and the playability however revolve around the modality of D and it's relative keys. For most styles of music 2 or 3 keys are sufficient and if you wish some advice on this, no problem. If you are uncertain about the question of keys, I can also make a keyless flute but with the wooden blocks, leaving you the option to add keys at a later stage without having to buy another flute.













Gallery
The workshop
The woods I use have had several years of drying.To estimate the optimal levels of moisture content, the blackwood and mopane pieces are weighed at their delivery in the workshop and ones again before continuing on to the lathe.I have a minimum period of 18 months between the delivery and the beginning of manufacturing.

I give a lot of attention to each piece of wood between stages; (turning one lathe,pilot hole drilling,reaming,etc..) to let the wood rest so it can eliminate the stress that it occurs during manufacturing.

For example for a Pratten-‐type bore, 9 different reamers are used. I made my reamers in a way that enables me to work on various points of the bore...

Each work station in the workshop is organised very specificly; such as wood turning, metal turning and milling, key making, engraving...
Maintenance
Maintenance rules for a new flute

A new flute needs some care and attention in the first years of its life. The drying aswell as the oiling of the bore process is more restricting than for an older flute.

After each period of playing, dry the bore with the silk cloth provided with the flute; also the tenon must be dried.

Do not play for long extended periods at the beginning. Frequently is better than.
For example :

The first week: don't play more than half an hour to one hour per day.
The second week you can play up to two hours a day.
Then progressively you can increase the amount of playing.

Between each playing dismantle the bodies of the flute and dry the bore (the inside of the instrument) with the silk cloth.


The first two weeks, lightly oil the bore every 2 to 3 days (the bore must be dry).
The first two weeks, lightly oil the bore every 2 to 3 days (the bore must be dry).
The first two weeks, lightly oil the bore every 2 to 3 days (the bore must be dry).
After a year if the flute is played regularly two to three times a year will then be enough. If you play much less than in the example, potentiate the times roughly.

When oiling, use a different cloth than the one used for cleaning and drying. Also oil the flute very lightly, roughly so it gets a light sheen, it should not look wet. The excess on the cloth can be used for the outside of the flute, it feeds the wood and gives it a nice patina.

For the beginning I suggest using raw linsed oil or carthame oil, these are polymerizing oils. After a month go to a more fluid oil such as macadamia or amond oil. It is easy to find good quality oil in eco-style shops, pharmacies and of course online. To avoid oxidation, a few drops of citrus essential oil can be added.

General maintenance rules

A regularly played flute needs to be oiled only two or three times a year, a little more if you live in a very warm dry country - like Ireland!

Avoid thermal shock, and extreme hygrometric gaps (dry heat indoors and humid cold outdoors inwinter e.g.)

The wood and the metal from lined head and barrel don't react the same way, as the metal expands itself under heat, the wood shrink under the same circumstances.

Tenon care

When assembling the different parts of a flute always turn it clockwise. If the the fit is too loose, you can wrap some normal sowing string around it - also always clock wise. After that grease the tenon with wax or vaseline.

The tuning tube at the head also needs a little greasing from time to time, with grease or e.g. lanolin (can be found in every pharmacy).

Keys and rings, brass maintenance

To keep the nice and shiny patina of the brass, rub it with a paper tissue or better with a special cloth used for silver polish, brass or copper polish. (also made for wind instruments especially).

If the brass has an oxidised look, use some silver polishing cream, but be carefull not to get any on the pads.


Options
Metal lip plate. May be desirable for people with wood allergies or for aesthetic purposes.
Cork with screw system.
Wooden key blocks. Making it possible to add any number of keys to your flute later.
Brass ring-plates around the two foot-piece holes.
Engraved rings (the large barrel ring is engraved by default).
Hand made wooden case : I have a contact who is a piano maker who also makes very nice wooden boxes for wooden flutes especially. She lives close to my workshop and has a variety of high quality woods (red cherry, walnut, cypresse) aswell as metal locks to choose from. The insides are lined padding and felt, which is usually greenor red. This is a cherry wood box.
Princing & Waiting time


Keyless flute



D
Eb
F
C
B
Bb

600 Euros
600 Euros
450 Euros
700 Euros
750 Euros
800 Euros


6 keyed flutes
D
Eb
Bb

1700 Euros
1700 Euros
1900 Euros


At the moment I have a waitng time between 3 and 6 months.

Add shipping , insurance and custom taxes.

Contacts & news